Efficient Fluorescent Lighting – Alternative Energy Store
Brighten your home and save money with efficient fluorescent lighting
When you use efficient fluorescent lighting in your home, you will notice that your electricity bill is a lot lower. Conserving energy by reducing the amount of unwanted watt-hours is easy when you use proper energy efficient lighting throughout your home.


To save money, use efficient fluorescent lighting throughout your house. Using Phocos´s Compact Fluorescent Lamps (CFL) is an ideal way to get very high illumination levels to brighten your home without high power consumption.... read more


This catalog is currently out of stock.


Please search through our categories for another catalog.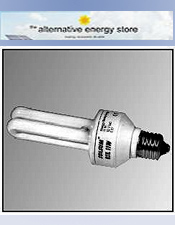 More About Efficient Fluorescent Lighting – Alternative Energy Store:
Other great Alternative Energy Store departments:
You can keep your home lit for over 10,000 hours with these fluorescent lights. It can be used directly in 12V battery or solar systems.


When you use efficient fluorescent lighting such as compact fluorescent light bulbs, you use about one quarter of the energy of an incandescent bulb of the same brightness. Take pride in your home and the environment by installing high efficiency Compact Fluorescent lights throughout your home. In addition, you can conserve energy with your outdoor lighting area when you install self-contained environmentally friendly floodlights that are powered by small solar panels.
Use efficient fluorescent lighting throughout your home to add light and save money. LED light bulbs, in particular, are very efficient, use very little energy and last a very long time.