Catalogs.com Departments

News & Articles

Decorative Accent Chairs - Home Decorators Collection
Decorative accent chairs are a beautiful addition to any room
When you place decorative accent chairs around your home, you add the right touch that room needs, whether you want something simple, modern, embellished or unique.


Decorative accent chairs work in any room, including bedrooms, living rooms, family rooms and even bathrooms. It all depends on the style you're going for. A whimsical Soho leaf chair or Melrose chair is perfect for eclectic tastes, while an Elizabeth chair or Hopewell accent chair are great for ornate, sophisticated rooms.... read more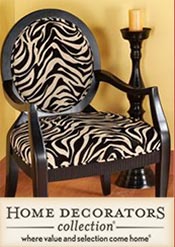 More About Decorative Accent Chairs - Home Decorators Collection:
Other great Home Decorators Collection - OLD departments:
Is your bedroom missing something? Or is there an empty corner of your living room that needs the right piece? Consider decorative accent chairs to put that extra flair into a room. With so many styles to choose from, the perfect chair you need is right here. Instead of making over an entire room, add a unique accent piece and give it a whole new look, quickly and easily!
Home Decorators Collection has a beautiful selection of decorative accent chairs in a range of styles, perfect for any room and any budget.