Catalogs.com Departments

News & Articles

Organic Cotton Bedding – Plumeria Bay
Get a good night sleep on organic cotton bedding
Nothing can substitute the comfort, strength and natural feel found in organic cotton bedding. Experience how nature's most prized fabric is used to create luxuriously soft bedding made to be durable, gentle to the skin and comfortable. Organic cotton bedding is made from undyed, unbleached cotton which accounts for the high-quality and appeal of this natural fabric.... read more


This catalog is currently out of stock.


Please search through our categories for another catalog.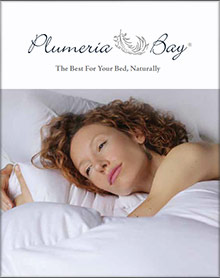 More About Organic Cotton Bedding – Plumeria Bay:
Other great Plumeria Bay departments:
Organic Cotton Down Comforters are the perfect accompaniment to top your organic cotton bedding set. Rest assured that you'll have a wonderful night's sleep underneath lavish down comforters designed to keep you comfortable in any temperature. Select from down comforters made for Tropical, Summer, Autumn and Winter warmths for Queen or King Size beds.



The moment your head settles on organic cotton goose down pillows, you immediately feel as though you're floating on cloud nine. Organic cotton bedding is not complete without organic cotton goose down pillow made from the finest German milled organic cotton. Choose from 650, 750 or 800 fill Hungarian and Polish white goose down. These pillows come in standard size, but are also available in both King and Queen sizes.
Organic cotton bedding is nature's answer to a good night's sleep. All cotton bedding has a 30-day satisfaction guarantee, making your selection in quality bedding worth your while.