Catalogs.com Departments

News & Articles

Pots and Vases - Quality Silk Plants
Add beauty to your home with silk topiary trees
Are you looking for chic and classy pots and vases that are not only functional, but beautiful? Quality Silk Plants offers a large collection of stylish pots and vases that are sure to match the décor of your home. From modern, contemporary designs to classic, regal pots, you're certain to find the right one for you!


If you're looking for a stylish way to store your brand new silk plant, try elegant garden pots. Whether you're looking to store your new plant in your front yard, sun room or living room, you can easily find the perfect pots and vases for your every room in your home.


... read more


This catalog is currently out of stock.


Please search through our categories for another catalog.


- or -

Shop for pots and vases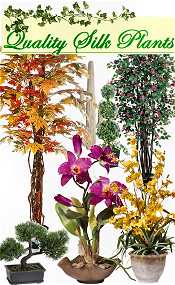 More About Pots and Vases - Quality Silk Plants:
Other great Quality Silk Plants departments:
Keep your flowers stored in a classic and elegant glass vase. Whether you're keeping real roses or silk calla lilies, these gorgeous glass vases are the perfect compliment to the beauty of your flowers. Flowers are naturally gorgeous by themselves, which is why this large collection of vases are simple and elegant.
Affordable pots and vases are a wonderful way to display your flowers. Allow the natural beauty of your flowers to shine through with affordable and attractive pots and vases from Quality Silk Flowers. Browse a large selection of pots and vases today!