Catalogs.com Departments

News & Articles

Unique Centerpieces - Classic Hostess
Unique centerpieces to adorn any room
Create the perfect ambiance in your room with unique centerpieces from Classic Hostess. Unique centerpieces are the perfect accompaniment to your tabletop setting.


Your imagination will soar when you select from an extensive selection of unique centerpieces to decorate your home. Glass, silver-plated, etched…whatever style you heart desires, there's the right centerpiece for you.... read more


This catalog is currently out of stock.


Please search through our categories for another catalog.


- or -

Shop for unique centerpieces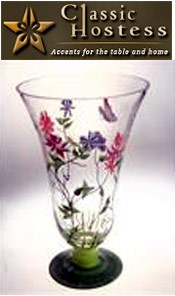 More About Unique Centerpieces - Classic Hostess:
Other great Classic Hostess - DYNALOG ONLY departments:
Adorn your home with fresh cut or dried flowers, tasty candies, river stones or seasonal fruits showcased in unique centerpieces. There are countless ways to add a special touch to your home.
Perfect for special events or to enjoy everyday, centerpieces will be the focal point in any room. Select from an array of intricately etched crystal bowls, brilliant cobalt blue vases, whimsical fish bowls or elegant silver-plated candy bowls…the choice is yours.
Unique centerpieces are radiant in style and distinctive in character. Fill centerpieces with potpourri for an invigorating bath, use centerpieces buffet-style to hold savory dishes, or use as a display for fragrant flowers.
Classic Hostess has an array of unique centerpieces for your table or desk. These amazing centerpieces are perfect for weddings, dinner parties, the holidays and for your daily enjoyment.