Alternative Home Energy Sources – Alternative Energy Store
Go green, save green with alternative home energy sources
Savvy homeowners turned off by the rising cost of electricity, oil, and natural gas have found great comfort in alternative home energy sources. Whether you're just starting to explore the idea of alternative home energy sources, or you're looking for additional ways to make your home run cleaner and greener, the Alternative Energy Store is your ultimate source.


There are so many alternative home energy sources, and the Alternative Energy Store has everything you could possibility imagine -- wind turbines, solar home power systems, mobile power systems, energy-efficient home appliances, LED lights, tubular sky lights, tankless water heaters, and so many money-saving alternatives.... read more


This catalog is currently out of stock.


Please search through our categories for another catalog.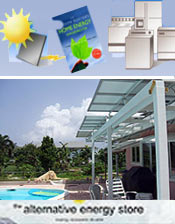 More About Alternative Home Energy Sources – Alternative Energy Store:
Other great Alternative Energy Store departments:
When it comes to solar power systems, find everything under the sun -- set yourself up right with a complete home solar power kit or all the elements to customize your own solar power system for your home, business, RV or boat.
This place truly is the ultimate source for solar energy products and information -- with so many solar energy products, including solar panels and solar tracking arms, solar water heaters, solar air heaters, solar attic fans, solar lanterns, solar pool heaters, and other innovative solar power supplies.
Alternative home energy sources for getting off the grid -- more and more homeowners are turning on to the idea of energy independence through their own solar and renewable energy system. At the Alternative Energy Store, find the information you need to make a decision – plus complete off-grid residential packages, as well as individually sold components, including solar panels and mounting systems, combiner boxes, charge controllers, inverters, and solar batteries.
See what's cookin' in energy-efficient appliances -- the Alternative Energy Store has a wide selection of battery (DC) and 100% gas refrigerators and freezers for completely electricity-free operation….plus the Global Sun Oven, the #1 solar appliance.