If you're shopping for bedding basics, The Company Store catalog features all of your must-have bed and bath essentials with a luxurious assortment of upscale bedding and linens available with monogramming options to add a chic, personalized touch.
The Company Store Catalog
From upscale bedding and linens to sleepwear, lounging robes to decorative home decor, you can count on The Company Store to dress up your bedrooms, bathrooms, and every other room that needs a hint of luxury. Sleep well with new sheets, down comforters, and alternative down comforters, shower with the softest towels and bath mats and decorate with accents that add warmth and elegance to every corner, all from The Company Store bedding catalog.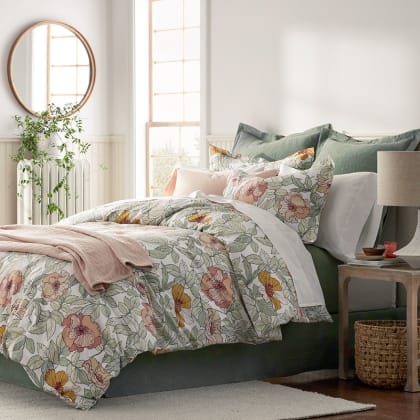 Upscale Bedding and Linens
The Company Store brings you everything you need to make your bed and lay on it comfortably, featuring comfy down or down alternative comforters, sheets, quilts, and bed covers in a variety of colors as well as plump pillows, supports and inserts, blankets, bed skirts, mattress pads, featherbeds, throws, and new allergy relief bedding and linens that will help you create your own rich and healthy sleep environment.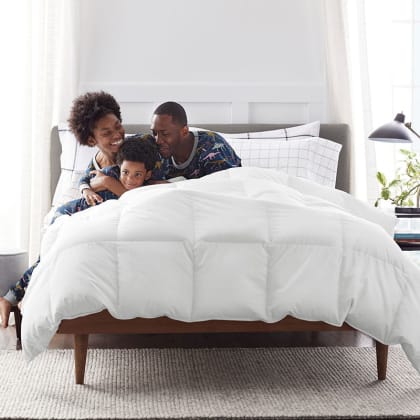 Down Comforters & Alternative Down Comforters
Whether you prefer plain white, colored down comforters, or alternative down comforters, you'll find a variety of colors and shapes to choose from including oversized down comforters that are just right for today's larger mattresses. From twin down comforters to full, king, and queen-sized comforter duvets, The Company Store will pamper you with high-quality bedding styles that are guaranteed to give you sweet dreams.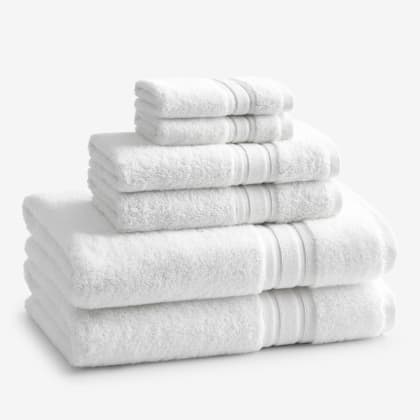 Bath Shop
If you're on the lookout for new towels, you'll embrace The Company Store catalog's plush variety of high-quality bath linens and rugs. Choose from luxurious bath robes and slippers, graphic shower curtains, bath mats, and a collection of eco-friendly bath luxuries including bamboo towels, rugs, robes, organic soaps, and shower gels that are soothing, relaxing, and completely all-natural.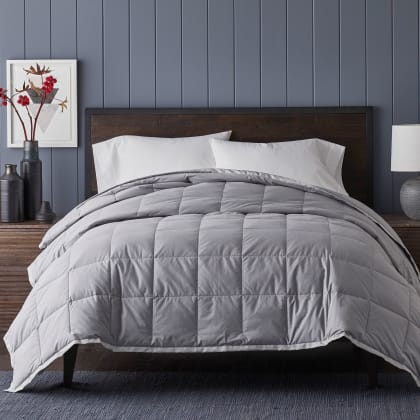 Home Decor
Once you've settled on the perfect set of high-quality bedding and linens, you'll find an irresistible collection of home decor accents that will bring it all together. The Company Store brings you a charming assortment of accent furniture, area rugs, window treatments, storage, and organizational products, decorative accents, tableware linens, and outdoor decor for the beach, pool, or patio.
So much more than your average bedding catalog, The Company Store selection brings you upscale bedding and blankets, delightful home accents, allergy relief bedding and linens and more items that make your house feel like home.
Frequently Asked Questions
Who, or what, is The Company Store?
In the 1800s, our European ancestors settled along the scenic bluffs of western Wisconsin. To endure the often-brutal Wisconsin winters, they naturally began handcrafting the warm down comforters and featherbeds from their Scandinavian homeland. This strong sense of tradition and craftsmanship is the foundation The Company Store only now we offer an even greater selection of comfortable products. Find out more about Our Story.
How do I request a free catalog for myself or for a friend?
To receive a catalog or send one to a friend, click here. You should expect to receive your catalog in 10-14 days. In the meantime, check out our latest online catalog.
ORDER PROCESSING
When is my order processed?
Orders are processed the same day they are received or on the next business day if the order is placed on a weekend or holiday. Your credit card is charged when your order is shipped. If multiple shipments are required to fulfill your order, you will be billed as the items are shipped. Delivery fees and taxes, if applicable, are charged on a pro-rated basis as items are shipped.
How will I know if you've received my order?
When ordering online, you can request to receive an order confirmation via email. Just click on the appropriate box on the payment information page, make sure your email address is correct, and you will receive an email confirming your order after you click on "purchase". Additionally, you will be given your order number on the order confirmation page after you submit your order. Be sure to jot this number down and keep it handy in case you have questions about your order.
How do I check the status of my order or contact you if I have a question about my order?
If you have any question about your order, including order status, call us at 1-800-323-8000 or email us at custserv@thecompanystore.com. Please include your name, address, and order confirmation number in addition to your question so that we may assist you as quickly as possible.
SHIPPING
What is your standard shipping policy?
The Company Store is pleased to offer free ground shipping on orders of $50 or more to our customers every day within the 48 contiguous states (from east coast to west coast and everywhere in between)! We strive to ship in-stock items within 1-2 business days via UPS. For deliveries to Alaska, Hawaii, and US Territories a $20 shipping fee applies. Free shipping is not available for some furniture, items shipped directly from the manufacturer or other large items, which require special handling and care due to their size and weight.
How do I track my package?
Thanks to our exclusive relationship with our trusted shipping partner UPS, you can track your package 24 hours a day on UPS.com using your tracking number.

To receive real-time notifications from UPS or manage the delivery of your package, sign up for My UPS Choice by clicking here.
RETURNS
We want you to be happy. If you are unsatisfied with any portion of your order, we are happy to accept returns within 90 days of your purchase. Your comfort is our promise.
What is The Company Store's "REST EASY" Guarantee?
All our products are made to the highest quality standards and we stand behind them with our 90-day Rest Easy Guarantee. Your comfort, our promise. Wash it, sleep on it, enjoy and have fun with it, just don't damage it. If your ultimate comfort hasn't been achieved, return it! It's that easy.

Please note that we are not able to accept returns of monogrammed items, clearance items (prices ending in $0.97), delivery and service charges, and Gift Cards.