Catalogs.com Departments

News & Articles

Stationary Gifts - PaperDirect
Give personalized, beautiful stationary gifts
Are you looking for fun stationary gifts for a loved one? From professional, customized letterhead to themed celebration cards, you're sure to find the perfect stationary gifts for the whole family. Browse a large selection of high quality card stationary today!


PaperDirect stationary gifts allow you to choose your own formatting and wording so that you can choose exactly what you want to say and how to say it. From spooky Halloween stationary to fun children's stationary, you can browse an extensive selection of high quality papers that are perfect for virtually any occasion.


... read more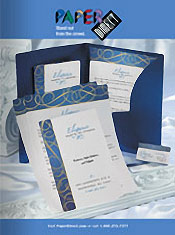 More About Stationary Gifts - PaperDirect:
You're sure to find the best stationary gifts for family and friends of all ages. Purchasing blank stationary for friends and loved ones allows them the freedom to put their very own, personalized stamp on each and every original piece. From professional letterheads, to fun, family letters, you can find a great stationary gift on the easy to use website today.
Tee off with golf-themed stationary for the golfer in your life, or create informative family newsletters with attractive, seasonal paper designs. Don't settle for expensive, low quality stationary gifts. PaperDirect specializes in high quality paper and stationary gifts for virtually every occasion. Start shopping today!