Catalogs.com Departments

News & Articles

Business Thank You Greeting - CardsDirect Christmas
Business thank you greeting cards show customers you care
Sending a business thank you greeting is a great way to show your appreciation for a variety of things, whether it's exceptional service or an employee's hard work. It's also a perfect way for businesses to welcome new clients.


Send your thanks with an elegant selection of corporate thank you cards, between business associates, customers and employees.... read more


This catalog is currently out of stock.


Please search through our categories for another catalog.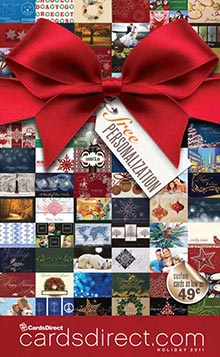 More About Business Thank You Greeting - CardsDirect Christmas:
Other great CardsDirect - Christmas Catalog departments:
Did your staff go above and beyond on a special project? Then give them business thank you greeting cards that let them know what a great job they did. Team Player cards show how much you value their service and promote motivation.


Do you want to show new customers how much you appreciate their business? Then send a business thank you greeting specially designed for dentists, legal professions or contractor positions. These corporate thank you cards include global markets in multiple languages and Spanish greetings as well. Elegant and professional designs add the right flourish to your words of appreciation, which you can personalize for an added touch.
CardsDirect has the right business thank you greeting for any occasion, in whatever style best defines how you do business.