Catalogs.com Departments

News & Articles

Tiaras for Quinceaneras - Uniquely Quince
Tiaras for Quinceaneras are the perfect crown accessory
Every Quinceanera princess needs a beautiful tiara to complete her look. Tiaras for Quinceaneras come in so many gorgeous styles, you may have a difficult time choosing the perfect one!


Your princess deserves the very best and tiaras for Quinceaneras will show that. These exquisitely detailed crowns are made of genuine Austrian crystals, which shine with such brilliance, she's sure to be the star of the show.... read more


This catalog is currently out of stock.


Please search through our categories for another catalog.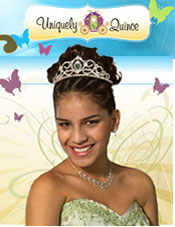 More About Tiaras for Quinceaneras - Uniquely Quince:
Other great Uniquely Quince departments:
There is such a beautiful selection to choose from, including petite styles that are big on splendor.


Choose tiaras for Quinceaneras by name. These lovely girls' names include Adriana, Tatiana, Carmelita, Blanca and more. She can lovingly store her cherished tiara in a velvet or wood box and hold onto other accessories like tiara pillows and kneeling pillows. With everything you need for a wonderful Quinceanera, your princess will have a unique and memorable experience.
Uniquely Quince carries tiaras for Quinceaneras that are dazzling, brilliant and perfect for your beautiful princess.