Catalogs.com Departments

News & Articles

MySpaShop.com – Spa Treatments at Home
Find everything needed for ultimate spa treatments at home
There's no place like home. And at MySpaShop.com, there's no better place to find everything you could ever need for the ultimate in spa treatments at home. Turn your home into your own private sanctuary with help from MySpaShop.com experts, who are truly passionate and knowledgeable about spa treatments at home that are nothing less than the best, yet come at a fraction of the price of professional spa products and services.


Discover a body of information and therapies for spa treatments at home -- including aromatherapy, body vinotherapy, detoxification remedies, massage therapy, bath and body treatments, choco-therapy…and the list of natural wonders goes on.... read more


This catalog is currently out of stock.


Please search through our categories for another catalog.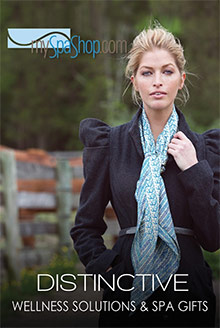 More About MySpaShop.com – Spa Treatments at Home:
Other great mySpaShop.com departments:
Shop a complete menu of indulgent spa treatments at home -- MySpaShop.com has you covered from head to toe with the best in skin care, sun care, the purest makeup, hair care, fragrances for men and women. And for a special treat, pamper those aching hands and feet with foot scrubs, soaks, and spa items for mani/pedi perfection.
Everyone appreciates the royal spa treatment -- men and women, teens, kids…even pets -- shop an amazing assortment of skin care, hair care and body treatments, therapeutic and aromatic gift sets and baskets, yummy treats, spa gifts, stunning jewelry, fresh fragrances and more that will make them feel adored.
Can't decide on the perfect way to pamper them? -- Don't let it stress you out...simply purchase a MySpaShop gift certificate, which they're sure to love!