Catalogs.com Departments

News & Articles

Dog Raw Hides – Dog TreatWarehouse
Your dog will enjoy tasty dog raw hides
Like all dog lovers, you want only the very best for your canine. Keeping your dog healthy and strong is just as important as keeping him happy. That's why a well-balanced diet and plenty of exercise are vital to good health. And, when the times comes to give your dog a treat, feed him all natural dog raw hides.


If you are looking for tasty dog raw hides, then look no further than Munchy Rawhide.... read more


This catalog is currently out of stock.


Please search through our categories for another catalog.


- or -

Shop for dog raw hides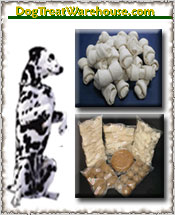 More About Dog Raw Hides – Dog TreatWarehouse:
Other great DogTreatWarehouse departments:
Made from high quality 100% rawhide, this treat has no added chemicals, additives or preservatives. This rawhide is put through a special extrusion process that allows the rawhide to be broken down into tiny munchable pieces. Rawhides are available in a variety of shapes, sizes, flavors and colors. Select from Flat Bars, Munchy Sticks, Basted Munchy Sticks, and Munchy bones.


White rawhides are another tasty treat for dogs. These particular dog raw hides are made from high quality white rawhide. You can be sure that the rawhide that your dog puts into his mouth is 100% natural and contains no dangerous chemicals, additives or preservatives. White rawhides come in a variety of shapes including Knotted Bones, Retriever Rolls, Donuts, Pretzels and so much more.
When your dog deserves something special, then treat him to dog raw hides and watch him chew his way to flavor, texture and fun.