Catalogs.com Departments

News & Articles

Pet Stationary – Pipsqueak Productions
Showcase your favorite breed on high-quality pet stationary
It's always delightful to receive a letter in the mail from a family member or friend. If you're an animal lover, use pet stationary to send all correspondence or use note pads to keep track of important reminders for the week, grocery lists or things to do before the day's over. Enjoy adorable prints of your favorite breed that adorn your pet stationary.... read more


This catalog is currently out of stock.


Please search through our categories for another catalog.

- or -

Shop for pet stationary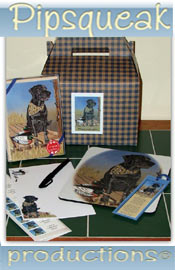 More About Pet Stationary – Pipsqueak Productions :
Other great Pipsqueak Productions departments:
Do you have a pen pal or a special friend that shares a common love for animals and writing? If you do, make your correspondence extra special with beautiful pet stationary. Made from 100% recycled paper, pet stationary comes in a reusable vinyl pack with 10 printed sheets, 10 blank sheets and 10 envelopes. Adorn your stationary with a picture of a Beagle, Great Dane, Cocker Spaniel or any other breed you choose.



Pet Stationary Sets are perfect for people who like to surround themselves with an assortment of pet-inspired stationary. Bring back your love for writing with this stationary set that includes note cards, envelopes, a mouse pad and fun stickers. Each set is packaged in a wonderful gingham gift box making it a lovely present for a loved one. Customize your set with a picture of your favorite breed.



Showcase your love of animals with pet stationary that you customize with adorable drawings of dogs, cats, fish, birds or farm animals by re-knowned artist Mary Badenhop.