Plus Casual Dresses - FreshProduceClothes.com
Plus casual dresses are stylish and comfortable
Full figured women want stylish attire that flatters them, not shapeless garments that do nothing for their figures. Now you can find plus casual dresses that are just as fashionable and beautiful for the woman with curves!


Staying cool is important during spring and summer. Plus size women need stylish options and these plus casual dresses provide them.... read more


This catalog is currently out of stock.


Please search through our categories for another catalog.


- or -

Shop for plus casual dresses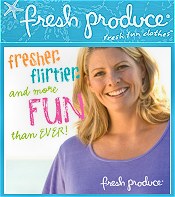 More About Plus Casual Dresses - FreshProduceClothes.com:
Other great Fresh Produce Sportswear departments:
You'll find fresh, vibrant colors and feminine designs that are perfect for hot weather. Short sleeve and tank dress styles are made for fun in the sun, whether you spend your time at the beach, pool, on vacation or at backyard barbeques!


Fresh Produce Sportswear carries a great selection of plus casual dresses that women will love. All of your favorite FreshProduce dresses come in sizes made to fit plus size women, including kaleidoscope tank dresses, short sleeve dresses with dragonflies, flower fest short sleeve dresses and sweet poppies dresses, plus much more!
Have a cool and comfortable spring and summer with a collection of plus casual dresses that will take you from day to night in easy style!