Catalogs.com Departments

News & Articles

Plus Summer Clothes - Fresh Produce Sportswear
Plus summer clothes are fashionable and stylish for full figures
Have a great summer in stylish and affordable clothes from a plus size retailer who understands that full-figured women want fashionable and comfortable styles. You'll love the plus summer clothes from Fresh Produce Sportswear.


How will you spend your summer? At the beach, at a resort, on a cruise or in a tropical locale? You need plus summer clothes that will get you through lots of sun and fun.... read more


This catalog is currently out of stock.


Please search through our categories for another catalog.


- or -

Shop for plus summer clothes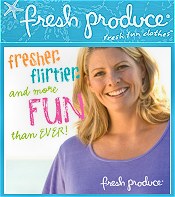 More About Plus Summer Clothes - Fresh Produce Sportswear:
Other great Fresh Produce Sportswear departments:
Tees, tank tops and easy dresses are adorned with details perfect for the season, including flip flops, fish, drink glasses and fun beach items.


Plus summer clothes should be colorful and fun, so choose from vibrant and breezy colors such as aqua, pink, peach, purple and florals. The comfortable fabrics and easy fit make these garments great for summertime. They're easy to wear and easy to care for, perfect for packing and unpacking again and again. Look stylish and cool all summer long with these stylish designs made just for curvy women.
Have an incredible summer in the great selection of plus summer clothes you'll find here, whatever your special plans are for the season.