Catalogs.com Departments

News & Articles

Snow Sports Helmet - Snow Shack
A snow sports helmet is great for skiing or snowboarding
Looking for the perfect helmet for you to wear while hitting the slopes? Let Snow Shack outfit you with a cool snow sports helmet whether you're snowboarding or skiing.


Men, women and kids can find the right snow sports helmet no matter their activity. Guys will love the cool selection of matte black helmets, either plain or jazzed up with hot details.... read more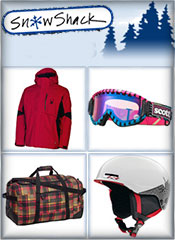 More About Snow Sports Helmet - Snow Shack:
Other great Snow Shack departments:
Women will enjoy understated as well as fashionable designs that are functional as well as stylish. You control the airflow and heat in your helmet so you're always comfortable.


Stay safe in the snow, but look cool at the same time! Features like multiple impact and breathable foam are just some of the benefits that keep you protected and comfortable. Modern technology combines with enhanced performance to ensure the best snow sports helmet collection you'll find. Your whole family will look forward to a variety of cold weather action with helmets like this.
Enjoy all of your favorite outdoor winter activities with a snow sports helmet that'll keep your head covered in ultra cool style!