Balsam Hill Christmas Tree Co
Pre lit trees - Artificial Christmas trees & wreaths from Balsam Hill
Create a festive atmosphere in your home during the holidays year after year, with Balsam Hill Christmas Tree Co. - your home for pre lit trees that will light up your holiday season. Shop for Christmas decorations, wreaths, ornaments and the most life-like pre lit artificial Christmas trees available.
What's Inside:
Pre lit trees for Christmas - Balsam Hill knows that your Christmas tree is the centerpiece for your holiday season, which is why they bring those bursting with Christmas spirit the most luxurious and realistic selection of pre lit artificial Christmas trees ever produced. Enjoy handsome trees in a wide selection of sizes, shapes, needle types, and light colors, so you receive the perfect artificial Christmas tree that will bring your family joy, season after season. Choose from 4 - 15 ft trees with ultra-realistic True NeedleŽ foliage, pine needles or classic needles, then light up your tree with dazzling clear lights, multi-lights, LED lights, or choose unlit trees so you can enjoy the pleasure of trimming the tree yourself. You can also shop for trees organized into collections based on geographic regions, so you can enjoy trees that are grown naturally close to your home, from the Napa Valley to Aspen and Vermont.
Christmas wreaths and garlands - Deck your halls with artificial Christmas wreaths and garlands that are every bit as lovely as your pre lit trees. Say goodbye to the hassle of shedding needles with a collection of artificial wreaths and garlands that are designed to match one of Balsam Hill's pre lit artificial Christmas trees, so your home will always be adorned with perfectly coordinated foliage. Choose from 24" to 60" sized wreaths and 10' strand garlands from the Aspen, Vermont, Napa and Classic Christmas collections.
Christmas decorations - Besides their stunning collection of pre lit Christmas trees, Balsam Hill also provides Christmas shoppers with everything they need to trim those beautiful pre lit trees with! Shop for rich, festive and delicate Christmas ornaments that will quickly become cherished Christmas favorites, crafted with the same amount of care and attention to detail as their premium Christmas foliage. Embrace your trees with classic red velvet Christmas tree skirts that will set the scene for a warm and festive Christmas morning.
Whether a beloved family member is allergic to the needles of real Christmas trees or you wish to avoid the hassle of lugging a 12 foot tree through your door, you'll find a collection of pre lit Christmas trees from Balsam Hill that are worth celebrating. Come home for the holidays every year, with pre lit trees from Balsam Hill.
---
You might also like these Home Decor catalogs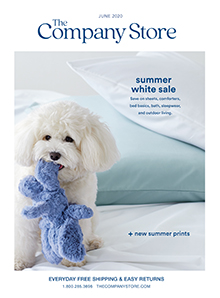 The Company Store - Home Depot
Find high quality bedding basics and home decor products from The Company Store catalog
Free Shipping