How teachers can learn to work with parents
By Catalogs Editorial Staff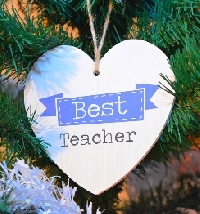 Teachers can learn to work with parents for active school-year involvement
If you?re a new teacher, your most important job is to teach the children entrusted into your care. Your second most important job, which will make your first job easier, is to engage their parents and inspire them to take an active part in their children?s education.
Starting with Back to School Night, you will have many opportunities to develop relationships with parents and turn them into your friends and allies. Together, you and they will provide the best possible education to their children.
You might wish to consider buying the excellent book, Working with Parents: Building Relationships for Student Success. It offers many easy-to-use tips for identifying and responding to various kinds of parenting styles to arrive at an effective working relationship between you, the teacher, and each set of parents.
Before you continue reading about the How teachers can learn to work with parents there is a special announcement we would like to share with you. Catalogs.com has negotiated special medicare rates for our vibrant community of seniors. If you are over the age of 60, you can head over to our Seniors Health Section which is full of information about medicare. All you need is your zip code and a few minutes of your time to potentially save 100s of dollars on your medicare bills.
Back to School Night
This all-important evening is your opportunity to welcome parents to their children?s new classroom, introduce yourself to them, and give them an overview of what to expect during the school year. Naturally you want parents to have an enjoyable experience and become enthused at the prospect of sharing in what?s sure to be an exciting year for their kids.
~
You probably will have decorated the classroom with such things as student self-portraits. But have you considered videos? If your school is properly technologically equipped, making a few short videos of your kids sharing their dreams and/or goals for the upcoming school year not only is a fun initial class project for them, but also gives their parents an opportunity to smile and feel proud while watching their own child(ren) interact with other children.
Parent Engagement
Sometimes parents are unable to attend Back to School night for whatever reasons. Thus they miss out on everything you covered. Most schools have the systems and applications necessary to let you put your BTS presentation onto a shareable platform whereby parents can review it any time they have a question.
Likewise, text messages are a powerful tool to let you remind parents of upcoming events, field trips, and due dates for classroom assignments. It?s also an effective way to give them a heads-up of any behavioral problems you?re having with their child(ren) and scheduling any necessary one-on-one meetings during the school year.
Parent-Teacher Conferences
These conferences are crucial in establishing a personal relationship with your students? parents. Since you have only a short time to do this, it?s your responsibility to be prepared and make each conference as productive as possible. Part of your preparation should be to send one or more preliminary texts or emails to each set of parents advising them of their child(ren)?s strengths and progress to date, as well as any academic or behavioral problems. That way they, too, are prepared for the conference.
Consider making suggestions to each set of parents as to how they can provide the best possible home-learning space and environment. You well know that the better a child?s home environment, the better able s/he will be to thrive. If parents don?t see the value of education in general, let alone the education of their own kids, it makes life much more difficult for both you and the affected students.
Give each set of parents your email address and tell them the times when you can most easily be reached and how long before you normally reply. This not only gives them an incentive to contact you when they feel it?s necessary, but also gives you control over what could be constant interruptions if they had your phone number.

Classroom Volunteers
Every teacher relies on and appreciates parents who volunteer to be field trip chaperones, school party helpers, story time readers, tutors, and numerous other VIPs. One of the best ways to encourage parent volunteerism is by posting upcoming volunteer opportunities online and/or sending them out by email.
Don?t overlook working parents. The majority of parents today have full- or part-time jobs that often prevent them from participating in daytime school activities. However, that doesn?t mean they have to be totally out of the loop. Invite them to update the class website and/or Pinterest boards. If your school has a school garden, especially invite them to participate on the weekends.
And never, never forget to show appreciation to parents who become involved in whatever school projects and events they can and do. Parents truly are your strongest allies. They may even have younger children who one day will be your students. If so, you already will have established an important relationship that can only get better the second time around.
Popular Savings Offers