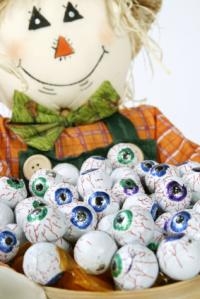 Scary menu ideas for a fun Halloween party
One of the most exciting parts of throwing a Halloween party is thinking up scary menus to feed and frighten your friends and family. Here are a few delicious recipes that are sure to make your Halloween party a festive and flavorful event.

Appetizers

Great beginners are an important part of any menu, and these fun starters will be sure to rev up your party and put a fun twist into your scary Halloween menus.

Cheesy Olive Eyeballs

Ingredients:
1/2 pound (2 cups) cheddar cheese
1/2 cup margarine
1/2 tablespoon salt
1 teaspoon paprika
1 cup flour
green olives (pimiento stuffed?no pits)
Shred cheese, and place in a bowl. Add margarine, and mix. In a separate bowl combine salt, paprika, and flour. Combine the contents of the two bowls together, and mix. Using clean hands, wrap the mixture around the olive leaving the "eye" (the pimiento) of the olive bare. Bake for five minutes in the oven at 400 degrees Fahrenheit and serve. Delicious!

The Main Event

Scary Halloween menus aren't complete without a few main dishes to fill up your guests. Here is a great scary recipe to get your friends and family into the holiday spirit.

Snake Bite

Ingredients:
1 can crescent rolls
flour (for dusting)
4 tablespoons spicy mustard
10 ounces thinly sliced ham
10 ounces thinly sliced salami
10 ounces bologna
12 ounces Monterey Jack (grated)
liquid food coloring
3 egg yolks
2 whole cloves
toothpicks
2 small pimiento-stuffed olives
1 (1 inch) strips jarred roasted peppers
Preheat the oven to 375 degrees Fahrenheit. Line a cookie sheet with foil, grease the foil, and set aside.

Dust a flat surface lightly with flour. Spread out the crescent dough (do not separate), and pinch together the seams so that you have one large piece of dough. Roll out to make a large rectangle, and make sure the dough is not stuck to the rolling surface at all.

Brush the dough with the mustard, leaving a one-inch border bare. Layer the meats down the center of the rectangle, leaving a one-inch border on either end. (Note that you can use whatever cold cuts you prefer.)

Top the meats with the cheese. Fold one side of the dough over the filling lengthwise. Then fold the other half over, and press the edge to seal the filling inside. Take one egg yolk and beat lightly with a fork. Brush over the dough to act as a "glue" to hold. Fold the dough in half again lengthwise. Pinch the seam with your fingers to seal. Press the outside of the dough to make sure everything is sealed tight and to make an even thickness for the body of your snake. Taper one end of the dough to form a tail shape. Form the other end into a head shape.

Beat the remaining two egg yolks together. Transfer to three separate small bowls. Add some food coloring to each bowl, using whatever colors you like. Using a clean paintbrush, paint the snake with the egg yolk/food coloring mixture.

Transfer the snake to the foil covered cookie sheet. Form it into an "S" shape so it looks as though the snake is slithering. Insert two cloves into the head to look like nostrils and two stuffed olives for eyes. Create a mouth or tongue with the roasted red pepper strips. Bake the snake for 25 minutes or until golden brown and cooked throughout. S-s-s-scary!
~
Dessert

Scary Halloween menus aren't complete without a sweet ending. Here is a tasty but frightening option for those with a sweet tooth.

Spider Cookies

Ingredients:
2 ounces unsweetened chocolate
1 1/4 cups flour
1 1/2 teaspoons baking powder
1/4 teaspoon salt
1/4 cup margarine
1 cup sugar
1 egg (beaten)
1 teaspoon vanilla
red-hot candies

Preheat the oven to 375 degrees Fahrenheit, and lightly grease a cookie sheet.

In a small saucepan, melt the chocolate over low heat.

In a separate bowl mix flour, baking powder, and salt. In another bowl, beat margarine and sugar until creamy. Stir in the egg, vanilla, and chocolate, and then add in the flour mixture. Mix well until a stiff dough is formed.

Make spider shapes on the cookie sheet, using the red-hot candies for eyes.

Bake for five to eight minutes.

Also, don't forget the Halloween candy! No Halloween party would be complete without a bowl or jack-o-lantern full of Halloween favorites like candy corn or salt water taffy. Coming up with scary Halloween recipes is fun, easy, and a great way to make your Halloween a fabulously frightening and delicious holiday.