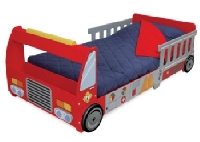 Kids car beds that make kids bed rooms hot
Goodness gracious, great bed of fire!
When my son was little, he loved fire trucks. The sirens, the ladders, the fire poles, the hoses? he even enjoyed the smoke inhalation and soot. Go figure. Now my boy is all grown up and sleeping in a big boy bed, but I wish I could still tuck him in every night when it?s lights out at the fire station.
Help your little fire chief sleep like a hero with this valiant kids fire truck bed from Stylish Kids Rooms.
Make the transition from crib to big boy bed an adventure with this wooden fire truck bed that will make any big boy firefighter light up brighter than a blaring siren. This adorable kids car bed is cute (and masculine at the same time) and fits a standard size crib mattress. It?s comfy cool and it looks like a real fire engine! Masterfully screen painted with realistic detail and safe side ladder rails to avoid nighttime falls, this little red spitfire truck of a bed will be a big hit with all of the boys on your squad.
Can?t take the heat? Get out of the fire truck bed.
Features:
– 59″ x 28.75″ x 21″H, 47.9 lbs
– Convenient storage compartment
– Ladder cut-outs on sides that double as bed rail
– Silk-screened details
– Price: $180
DID YOU KNOW? The first fire pole was invented in the 1870?s by Chicago resident David Kenyon. Contrary to popular belief Kenyon wasn?t a firefighter, but made a pretty impressive living dancing for tips.
*Find your perfect boys bedroom set at Stylish Kids Rooms!