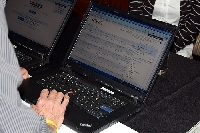 Using social media for job search can be beneficial for job seekers
In today's job market, any edge can be a game changer. Those who use social media — Twitter, Facebook, LinkedIn, and more — are able to pump their name and qualifications out to innumerable amounts of employers and businesses. Using social media for job search can mean the difference between struggling to find work or making the connections necessary to find an open position within your field of interest.
What Works and What Are People Using
The National Association of Colleges and Employers (NACE) completed a student survey in which 41 percent of seniors polled admitted to using some form of social media as they searched for work. According to their 2011 Student Survey, NACE found that students looked to both Twitter and their LinkedIn accounts as something that could help them find work.
Facebook — despite the fact that around 91 percent of students surveyed said they had a FB profile — was used by less than 1/4 of students as a job-finding tool.
LinkedIn
Those with LinkedIn profiles can look to add connections within their industry (or industries) in which they are looking for work. The site offers different groups to find and connect with as well as a variety of potential employers who may in fact be looking for a new hire. As a LinkedIn member then, one can search companies within your set industry parameters and figure out businesses that look promising or intriguing in which to find out further information.
Here's another idea on how to use it to your benefit. Have you looked yourself up on Google recently?  Maybe you don't like what comes up? Simply create a LinkedIn profile and complete the profile. Next time you search for yourself (or an employer does) it will return your LinkedIn profile as a main link on you. Thus, it may push down or overshadow some of the other more questionable links on Google about yourself. 
~
Twitter
Through Twitter, one can let followers know they are looking for work and if anyone knows of job openings in the area. You can also find potential employers to follow on Twitter or other people who may be able to help in finding openings. Join industry chats that go on in the Twitter universe, as well.
You may even be able to use Facebook, Twitter, or LinkedIn to find out information on a potential hiring agent. Knowing more about a person can assist you in creating a nice little resume specifically meant for them. It can also help you to get to know a person before a big interview.
Facebook
Despite the previously mentioned study on Facebook, the social media site can be a solid point of emphasis for job seekers. First and foremost, your friends are mostly those you will be interacting with in the hopes of landing a position. They will want to help you (hopefully) and thus you'll have hundreds of friends who will want to see you score a new position. Ask if any of them know of new openings, have heard other friends talking about positions available, or know anyone who is hiring at the moment.
Now, on the flip side, it's important as the technology age grows to understand what can and can't be seen on your Facebook page. Say you've just connected with a HR professional or a business owner looking to hire. Everything is going great until they ask about that 300 person kegger you just had when your parents went away for a weekend upstate. How did they know that?
Well, every one of your friends has messaged you on your wall to tell you what a great time they had and how truly irresponsible you are to have thrown that large of a party. So, you get the point. Keep your Facebook profile private, which means it can be seen by Friends Only. 
Using social media for job search can be a great opportunity to get your name out there and make the necessary connections within your industry to facilitate you finding that next great work experience.  Get out there and use everything at your disposal to find that job.
Resources:
Business Week: Social Media and the Job Search.
NACEweb.org: Social Media in the Job Search: LinkedIn, Twitter Outpace Facebook as Tools.
USNews: 10 Smart Ways to Use Social Media in Your Job Search.
Above photo attributed to USAG-Humphrey