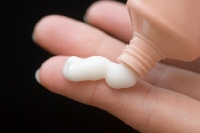 Does acne cream work? The answer is often up to you
If you've ever dealt with blemishes, you probably know it's often an uphill battle. It may seem as though whatever products you use or whatever skin care regimen you practice, you're still left with those unsightly spots on your face.
All this frustration may have you wondering, ?Does acne cream work??
Your Skin
Unfortunately, this question cannot be answered with a black and white statement, as there are many variables involved. First, you have to take the type of skin you have into consideration. Sensitive, dry, oily and normal skin types all require different acne creams.
Once you determine the sort of conditions you are working with, you can then pick out the treatment that is suited for it. For instance, normal skin can use just about any type of blemish treatment. However, you must make sure it doesn't dry out your skin or make it feel irritated. One that contains gentle ingredients that still take care of those blemishes is your best bet.
If you have dry skin, dealing with zits and pimples can be tricky. Zit medications often dry out skin, which can make your condition even worse. Look for treatments that are made for this skin type and it should work well for you. The same goes for sensitive skin ? your treatments shouldn't feature components that can irritate or stress out your skin.
Oily skin also deserves special care, because the excess sebum that resides on your face can interfere with the treatment. Using acne cream that is made for that kind of skin is your best shot at saying goodbye to those blemishes.
~
Skin Care Regimen
The success of your pimple treatment depends on how you take care of your skin. If you never wash your face and go to bed wearing makeup, there's a good chance your skin won't clear up anytime soon. But if you take care of yourself, you increase your chances of having glowing and blemish-free skin.
Ideally, you should wash your face twice a day; once when you wake up and before going to bed. Doing so upon waking removes any grease or dirt that accumulated while you got your snooze on. Being outside and wearing makeup during the day introduces dirt and other unsavory items into your pores, which causes spots to take up residence. Washing your face removes all that grime and can prevent breakouts from occurring.
However, the amount you wash also depends on the type of skin you have. Those with dry skin can often get away with washing only once a day. Washing more than that can make your skin even more dry and irritated. The best time of day to do this would be at night, so that you can remove the day's grime.
If you have oily skin, however, you can usually wash your skin three times a day, if needed. Avoid washing any more than that, as doing so can actually make the problem worse.
After you wash your face, you should follow up with a moisturizer that won't clog your pores. Using products that don't claim to be noncomedogenic can do major damage to your skin and cause your treatments not to work.
The Final Answer
Does acne cream work? The answer is often yes, as long as all of your other skin care components are up to snuff. This type of treatment won't be successful if you are sabotaging it by using products that are wrong for your skin or are performing the wrong actions.
However, when all of your skin care products and routines are in sync, your products should take care of those unsightly spots and leave you looking lovely.
Resources:
Yahoo!: 7 Acne Creams That Actually Work
Acne Skin Site: Do Acne Creams Really Work?