Driving historic Route 66
By Catalogs Editorial Staff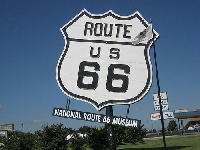 Route 66 is the mother of all drives
Driving historic Route 66 is a rite of passage for many Americans who long for the adventure and freedom promised by the open road. Route 66 is an iconic road trip that spans approximately 2,400 miles through eight states from Chicago, Illinois to Santa Monica Pier on the California coast.
A drive on this two-lane highway against a setting of farms, rivers, red rock formations, and the Pacific Ocean will take you back to a time when long drives and dramatic landscapes seemed inseparable.
The enduring lure to drive historic Route 66 is in part due to its significant history and cultural influence throughout the twentieth century. Formally established on November 11th, 1926, the culture of Route 66 formed during a time of transition, and continuously evolved with each decade that followed.
Before you continue reading about the Driving historic Route 66 there is a special announcement we would like to share with you. Catalogs.com has negotiated special medicare rates for our vibrant community of seniors. If you are over the age of 60, you can head over to our Seniors Health Section which is full of information about medicare. All you need is your zip code and a few minutes of your time to potentially save 100s of dollars on your medicare bills.
During the ?Dust Bowl? or the ?Dirty Thirties?, the route gained popularity as migrant workers and displaced home owners traveled west. The travelers needed a place to sleep and eat so colorful restaurants, roadside shops and motels sprung up in small towns along Route 66 to accommodate them. Utilized by the military during World War II and by post-war vacationing families in the 1950s, Route 66 intersected with major highways in every direction, earning such nicknames as ?The Mother Road?, ?Main Street of America? and ?Will Rogers? highway.
~
When driving historic Route 66, you may notice that your ?route? is missing from modern maps, as well as a few dead spots that are simple enough to navigate around. After realigning it numerous times to eliminate congestion and give travelers safer, faster routes, the highway system decommissioned Route 66 in 1985 and bypassed it with the Interstate Highway System. Today, about 85% of the highway is still drivable.
Numerous guidebooks provide detailed maps of Route 66 and its occasional detours, as well as comprehensive tips and directories for attractions, food, lodging, and the best spots for those obligatory photographs posing in front of neon motel signs and quirky, over-sized statues. Additionally, a Global Positioning System (GPS) is an ideal tool for road trips. A GPS will provide timely information, such as directions to the nearest restroom, coffee stop, and gas station from wherever you happen to be.
Portions of Route 66 in Illinois, Missouri, New Mexico and Arizona are labeled ?National Scenic Byway?. In addition to classic signage, you?ll drive over original arch bridges once slated for demolition, saved by the efforts of state historic associations, individuals, and the National Historic Route 66 Federation. Some of the most popular roadside attractions to photograph include the St. Louis arch, old hideouts of Jesse James, the round barn in Oklahoma, the Cadillac Ranch in Amarillo, Arizona?s Painted Desert and Grand Canyon, and the Pacific Ocean in Santa Monica.
Be sure to take the time to stop in a the small town museums, galleries, and curiosity shops. You may not want to take a stuffed armadillo wearing a sheriff?s hat home with you, but you?ll meet fellow travelers and experience more of the living history of Route 66.
Popular Savings Offers
References:
Jim Shore Gifts and Collectibles
Free Catalog
Ferm Living Outdoor
Shop Now
CuraDebt
Free Consultation
Discount Safety Gear
Free Shipping
The Walking Company Catalog
Free Shipping
Rock- It Creations
Free Shipping