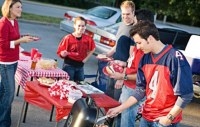 One of the best things about football season is tailgating.
We don't picnic in America any more: We tailgate.
 –Stephen Linn, "Fox Sports Tailgating Handbook"
One of the best things about football season is tailgating. All you football fans know exactly what I'm talking about. It doesn't matter whether you're attending a professional game or a college game, the same thing holds true: The tailgate is just as important as the game itself.
While coolers of beer are often the No. 1 tailgate necessity, food follows a very close second – if not neck and neck with the top spot.
There are so many football tailgate recipes out there, it is tough to choose. Some fans follow specific traditions, given the roots of their team. For instance, North Carolina fans roast pigs in the parking lot while the fanatics at LSU cook up traditional Louisiana gumbo.
Instead of simply handing you a list of different football tailgate recipes, I am breaking them up into segments based on budget – nosebleed, 50-yard line and box seats.
NOSEBLEED SEATS (aka, the "Poor Man's Tailgate")
For the budget-conscious (think college student here), chips and hot dogs are often the cornerstone of the tailgate – especially since the bulk of their money is used on a keg.
Here's a suggestion for nosebleeders: Instead of hot dogs, grill up some Brats. They are tastier and heartier (good for soaking up all that beer) than hot dogs.
Ingredients:
6 bratwurst sausages
12 ounces beer
1 chopped onion
6 Hoagie rolls
German mustard
Directions:
Combine the sausages, beer, and onion in an aluminum pan (available for next to nothing in grocery stores). Simmer for 30 minutes. Drain well and grill for 10 minutes, turning frequently, or until browned on all sides. Add a little more beer while grilling for crispier skin. Serve in Hoagie rolls with the mustard.
*You can boil the brats in advance of the tailgate which will cut down on time.
50-Yard Line Fans

The 50-yard line folks generally arrive early, set up shop and start grilling as soon as day breaks. They plan all week for this tailgate and pack everything but their kitchen sink into the car. They have coolers full of meats, dips, drinks, you name it. The are the type of fans who even think to put cushions on their coolers for extra seating.
It is safe to say that they have been using the same football tailgate recipes for years, but every now and then they try something new. Something like:
~
Barbecue Pork Ribs
Ingredients:
Rack of pork ribs
Rib rub
Barbecue sauce
1/2 cup apple juice
Aluminum foil
Wood chips for smoke (for gas grill)
Directions:
Trim the fat off the ribs. There is no need to take off all the fat, only the thick useless pieces. Next you want to apply your rub all over the rack – front and back. Apply the rub about an hour before grilling. If you are using a gas grill, wrap the wood chips in aluminum foil to add a smoke flavor. (Make sure the chips are slightly damp and once wrapped, poke holes in the foil. These will go under the grate.)
When placing the ribs on the grill, make sure you place them so they don't cook too fast or overheat. Even cooking throughout is desired – at roughly 300 degrees. Make sure you place the rack bone-side down and then close the lid. Let them cook for 30 minutes and don't open the lid.
Now, pour the apple juice on the ribs and wrap tightly in the foil. This will help to tenderize the ribs. The temperature should reach 375 degrees now to boil the juice. Unwrap the ribs after 30 minutes and place back on grill at around 250 degrees.
Using the barbecue sauce, slather one side of the ribs and let stand for five minutes. Do the same for the other side. Continue this for 30 minutes.
Cut the ribs and enjoy!

BOX SEAT FANS
Not all box seat fans have their tailgate catered. Some still enjoy cooking up their own football tailgate recipes. While brats and ribs are fine fare for any tailgate, these fans typically are used to the finer things in life, such as:

Grilled Rock Lobster Tails
Ingredients:
1 Tbsp. lemon juice
1/2 cup olive oil
1 tsp. salt
1 tsp. paprika
1/8 tsp. white pepper
1/8 tsp. garlic powder
2 (10 ounce) rock lobster tails
Directions:
Preheat the grill until it's quite hot. In a bowl, squeeze the lemon juice and whisk in olive oil. Then whisk in paprika, white pepper, garlic powder and salt. Split the lobster tails lengthwise and slather the marinade on the fleshy side.
Place the tails (flesh side down) on a lightly oiled grill. Cook for 10 to 12 minutes until lobster is somewhat firm and opaque. Turn once about halfway through and continue adding the marinade throughout grilling process.
No matter what your budget-level, there are numerous football tailgate recipes out there to suit all tastes. Everything from dips and homemade chips to more elaborate fare like jumbalaya and grilled lamb.